Hernia Repair in Los Angeles
Welcome to the Total Hernia Repair in Los Angeles.
The Total Hernia Repair in Los Angeles is a unique center specializing and dedicated to surgical management of different types of hernia repair in Los Angeles. We utilize the most advanced technologies such as Robotic and Laparoscopic techniques to provide our patients the most comfortable and durable hernia repair available. Our mission in hernia repair in Los Angeles is also to combine these states of art surgical hernia services with compassion, care and kindness to create a remarkable patient experience.
The Total Hernia Repair in Los Angeles was founded by Andrew Iraniha, MD, FACS. Dr. Iraniha earned his medical degree from Tehran School of Medicine as a top-ranked student. He completed his surgical training at Harbor-UCLA and UCI Medical Centers in California. He has been doing hernia repair in the Los Angeles region for over fifteen years and has an excellent reputation and remarkable surgical outcome.
Dr. Iraniha has extensive experience in Robotic, Laparoscopic and Open hernia repair in Los Angeles. He is one of the pioneers of utilizing Robotic hernia repair in Los Angeles and uses technology for repairing the abdominal wall hernias.
The Total Hernia Repair in Los Angeles provides a complete evaluation of the patient for precise diagnosis and a customized repair for each individual. It is based on their age, general health, hernia type and physical demands in their daily life. At Total Hernia Repair Center Laparoscopic in Los Angeles, Dr. Iraniha`s substantial expertise allows for accurate diagnosis of hernia and customizing the appropriate surgical management to achieve a durable outcome with less postoperative pain and faster recovery.
The Total Hernia Repair in Los Angeles specializes in the following surgical procedures:
•Laparoscopic inguinal Hernia Repair
•Laparoscopic Ventral Hernia Repair
•Robotic Inguinal Hernia Repair
•Robotic Ventral Hernia Repair
•Open Inguinal and Ventral hernia Repair
•Component Separation Technique
•Standard Open Repair Without Mesh
•Standard Open Repair With Mesh
•Component Separation Technique
•Laparoscopic Hernia Repair
•Robotic Hernia Repair
•Hemorhoidectomy
•Breast Surgery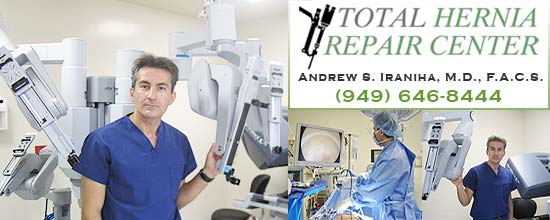 At the Total Hernia Repair in Los Angeles, we provide same or next day appointment for urgent surgical problems, a generous time with the physician with each visit and immediate access to the physician. We invite you to experience our unique services by calling us at 949-646-8444 for the next appointment.
Total Hernia Repair in Los Angeles by City
Alhambra
Arcadia
Artesia
Bellflower
Beverly Hills
Burbank
Carson
Cerritos
Covina
Culver City
Downey
El Monte
El Segundo
Gardena
Glendale
Harbor City
Hawthorne
Hermosa Beach
Inglewood
La Mirada
Lakewood
Lomita
Long Beach
Los Angeles
Malibu
Manhattan Beach
Marina Del Rey
North Hollywood
Norwalk
Paramount
Pasadena
Playa Del Rey
Pomona
Rancho Palos Verdes
Redondo Beach
San Fernando
Santa Monica
Sherman Oaks
Signal Hill
Studio City
Torrance
Van Nuys
West Covina
West Hollywood
Whittier
Total Hernia Repair in Los Angeles by Zip Code
91801
91006
90701
90706
90209
91501
90745
90703
91722
90230
90239
91731
90245
90247
91201
90710
90250
90254
90301
90637
90711
90717
90801
90001
90263
90266
90292
91601
90650
90723
91101
90293
91766
90275
90277
91340
90401
91403
90755
91604
90501
91388
91790
90069
90601
Need to schedule a consultation with Dr. Iraniha?
Click on the Contact Us button to start the consultation schedule. Thank you!