Hernia Repair in San Diego
Welcome to the Total Hernia Repair in San Diego.
The Total Hernia Repair in San Diego is a unique center specializing and dedicated to surgical management of different types of hernia repair in San Diego. We utilize the most advanced technologies such as Robotic and Laparoscopic techniques to provide our patients the most comfortable and durable hernia repair available. Our mission in hernia repair in San Diego is also to combine these states of art surgical hernia services with compassion, care and kindness to create a remarkable patient experience.
The Total Hernia Repair in San Diego was founded by Andrew Iraniha, MD, FACS. Dr. Iraniha earned his medical degree from Tehran School of Medicine as a top-ranked student. He completed his surgical training at Harbor-UCLA and UCI Medical Centers in California. He has been doing hernia repair in the San Diego region for over fifteen years and has an excellent reputation and remarkable surgical outcome.
Dr. Iraniha has extensive experience in Robotic, Laparoscopic and Open hernia repair in San Diego. He is one of the pioneers of utilizing Robotic hernia repair in San Diego and uses technology for repairing the abdominal wall hernias.
The Total Hernia Repair in San Diego provides a complete evaluation of the patient for precise diagnosis and a customized repair for each individual. It is based on their age, general health, hernia type and physical demands in their daily life. At Total Hernia Repair Center Laparoscopic in San Diego, Dr. Iraniha`s substantial expertise allows for accurate diagnosis of hernia and customizing the appropriate surgical management to achieve a durable outcome with less postoperative pain and faster recovery.
The Total Hernia Repair in San Diego specializes in the following surgical procedures:
•Laparoscopic inguinal Hernia Repair
•Laparoscopic Ventral Hernia Repair
•Robotic Inguinal Hernia Repair
•Robotic Ventral Hernia Repair
•Open Inguinal and Ventral hernia Repair
•Component Separation Technique
•Standard Open Repair Without Mesh
•Standard Open Repair With Mesh
•Component Separation Technique
•Laparoscopic Hernia Repair
•Robotic Hernia Repair
•Hemorhoidectomy
•Breast Surgery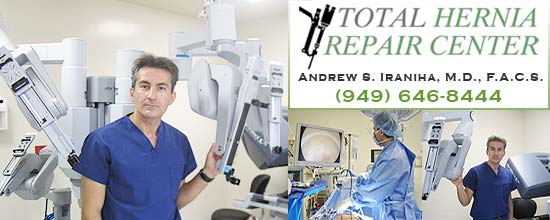 At the Total Hernia Repair in San Diego, we provide same or next day appointment for urgent surgical problems, a generous time with the physician with each visit and immediate access to the physician. We invite you to experience our unique services by calling us at 949-646-8444 for the next appointment.
Total Hernia Repair in San Diego by City
Alpine
Bonita
Camp Pendleton
Campo
Cardiff By The Sea
Carlsbad
Chula Vista
Coronado
Del Mar
Descanso
El Cajon
Encinitas
Escondido
Guatay
Imperial Beach
Jacumba
Julian
La Jolla
La Mesa
Lakeside
Lemon Grove
Lincoln Acres
Mount Laguna
National City
Oceanside
Pala
Palomar Mountain
Pauma Valley
Pine Valley
Potrero
Ramona
Ranchita
Rancho Santa Fe
San Diego
San Luis Rey
San Marcos
San Ysidro
Santa Ysabel
Santee
Solana Beach
Spring Valley
Tecate
Valley Center
Vista
Warner Springs
Total Hernia Repair in San Diego by Zip Code
91901
91902
92055
91906
92007
92008
91909
92118
92014
91916
92019
92023
92025
91931
91932
91934
92036
92037
91941
92040
91945
91947
91948
91950
92049
92059
92060
92061
91962
91963
92065
92066
92067
92101
92068
92069
92143
92070
92071
92075
91976
91980
92082
92081
92086
Need to schedule a consultation with Dr. Iraniha?
Click on the Contact Us button to start the consultation schedule. Thank you!