Hernia Repair in Riverside
Welcome to the Total Hernia Repair in Riverside.
The Total Hernia Repair in Riverside is a unique center specializing and dedicated to surgical management of different types of hernia repair in Riverside. We utilize the most advanced technologies such as Robotic and Laparoscopic techniques to provide our patients the most comfortable and durable hernia repair available. Our mission in hernia repair in Riverside is also to combine these states of art surgical hernia services with compassion, care and kindness to create a remarkable patient experience.
The Total Hernia Repair in Riverside was founded by Andrew Iraniha, MD, FACS. Dr. Iraniha earned his medical degree from Tehran School of Medicine as a top-ranked student. He completed his surgical training at Harbor-UCLA and UCI Medical Centers in California. He has been doing hernia repair in the Riverside region for over fifteen years and has an excellent reputation and remarkable surgical outcome.
Dr. Iraniha has extensive experience in Robotic, Laparoscopic and Open hernia repair in Riverside. He is one of the pioneers of utilizing Robotic hernia repair in Riverside and uses technology for repairing the abdominal wall hernias.
The Total Hernia Repair in Riverside provides a complete evaluation of the patient for precise diagnosis and a customized repair for each individual. It is based on their age, general health, hernia type and physical demands in their daily life. At Total Hernia Repair Center Laparoscopic in Riverside, Dr. Iraniha`s substantial expertise allows for accurate diagnosis of hernia and customizing the appropriate surgical management to achieve a durable outcome with less postoperative pain and faster recovery.
The Total Hernia Repair in Riverside specializes in the following surgical procedures:
•Laparoscopic inguinal Hernia Repair
•Laparoscopic Ventral Hernia Repair
•Robotic Inguinal Hernia Repair
•Robotic Ventral Hernia Repair
•Open Inguinal and Ventral hernia Repair
•Component Separation Technique
•Standard Open Repair Without Mesh
•Standard Open Repair With Mesh
•Component Separation Technique
•Laparoscopic Hernia Repair
•Robotic Hernia Repair
•Hemorhoidectomy
•Breast Surgery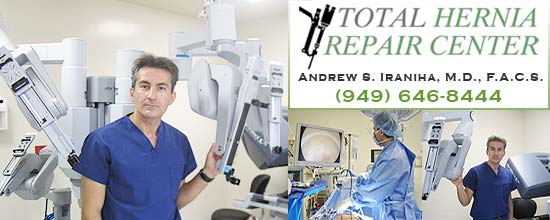 At the Total Hernia Repair in Riverside, we provide same or next day appointment for urgent surgical problems, a generous time with the physician with each visit and immediate access to the physician. We invite you to experience our unique services by calling us at 949-646-8444 for the next appointment.
Total Hernia Repair in Riverside by City
Aguanga
Anza
Banning
Beaumont
Bloomington
Blythe
Bryn Mawr
Cabazon
Calimesa
Cathedral City
Coachella
Corona
Colton
Desert Center
Desert Hot Springs
Hemet
Fontana
Homeland
Idyllwild
Indian Wells
Indio
La Quinta
Lake Elsinore
March Air Reserve Base
Mecca
Menifee
Mira Loma
Moreno Valley
Mountain Center
Murrieta
Norco
North Palm Springs
Nuevo
Palm Desert
Palm Springs
Perris
Rancho Mirage
Riverside
San Jacinto
Sun City
Temecula
Thousand Palms
Whitewater
Wildomar
Winchester
Total Hernia Repair in Riverside by Zip Code
92536
92539
92220
92223
92316
92225
92318
92230
92320
92234
92236
92877
92324
92239
92240
92543
92331
92548
92549
92210
92201
92247
92530
92518
92254
92584
91752
92551
92561
92562
92860
92258
92567
92211
92262
92570
92270
92501
92581
92585
92589
92276
92282
92595
92596
Need to schedule a consultation with Dr. Iraniha?
Click on the Contact Us button to start the consultation schedule. Thank you!